Home
- Monthly Feature - Get to Know Our Snow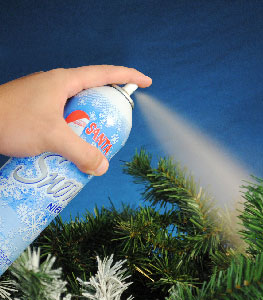 Get to Know Our Snow
Each year around this time, we get many questions about our Santa® Snow products. Maybe you're wondering: "What Santa® product should I use on my windows?" or "How do I properly spray Santa® Snow on a wreath?" Chase Products is happy to present this guide to decorating with Santa® products.
Snow Spray Products
We offer two water-based spray products designed to mimic real snow. Santa® Snow sprays a heavier stream which gives a more textured look. Santa® Sno Blower® has a unique spray nozzle that sprays a lighter mist, giving greater directional control and minimizing cleanup. Both are designed to highlight trees, wreaths and centerpieces, but not to fully flock them, as an extremely heavy coat of Snow will not dry properly. The sprays can also be used to decorate windows and mirrors.
Snow Decorating Tips
To decorate a tree, wreath or garland with our Santa® Snow products, follow these steps:
Step one – Place a sheet or tree bag under the object to be sprayed to catch any overspray.
Step two – Add any lights or other electrical decorations to the tree.
Step three – Keeping the lights unplugged, spray the just the tips of the branches and allow the snow to dry for 6 to 8 hours before finishing your decorating.
Avoid spraying on furniture, woodwork, walls, curtains, rugs and tinted film on window surfaces. Our spray snows are designed for indoor use; if used outdoors, weather will affect them.
Snow Cleanup Tips
Removing Santa® Snow from glass surfaces is easy. Simply brush off any loose particles using a brush or vacuum brush attachment. Spray glass with glass cleaner, allow to soak for 30 seconds and dry with paper towels or a squeege. Dry snow can be cleaned up with a broom or vacuum.
Window Spray Products
We also offer two different types of window decorating sprays. Santa® SnowFrost is translucent, powdery Snow specially formulated for use on glass and mirrors. Santa® SnowFrost is very effective when used with our Santa® Stencils to create seasonal shapes like snowflakes and candy canes. Another option is our Santa® Ice Crystals which creates an icy, crystalline pattern within minutes...almost like Jack Frost paid a visit.
Window Decorating Tips
You can use Santa® SnowFrost or Santa® Ice Crystals on windows, mirrors, or any glass surface. Protect walls, woodwork and porous surfaces from spray.
Window Decorating Cleanup Tips
Santa® SnowFrost can be removed from a glass surface with a dry cloth. Santa® Ice Crystals should be removed with warm water and a squeegee. Just wet the glass with warm water and squeegee the water down to the bottom of the window. Repeat as necessary. For a final cleaning, use an ammoniated or alcohol-based glass cleaner and paper towel.
For more information on these products, visit our FAQ pages for Santa® Snow spray products and Santa® window decorating products.