Home
- Monthly Feature - Springtime is Bug Time!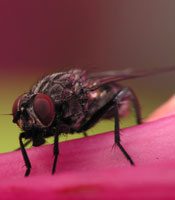 Springtime is Bug Time!
This spring season most of us will encounter insects of all shapes and sizes. It's important to note that sometimes a non-chemical method of prevention is as effective and convenient as a chemical alternative. In order to try to prevent a seasonal insect infestation without chemicals, it is recommended to first remove the elements they need to survive. This can be done by:
Removing standing water
Removing food crumbs and sealing food in containers
Ensuring cracks and crevices are caulked and treated properly
Checking windows to ensure insect entryways are blocked
However, if you still find insects becoming a problem despite your efforts, you've come to the right place. Chase Products started as an insecticide company, and for over 80 years Chase has continued to offer insecticides to suppress almost all types of seasonal insect infestation.
If you need to resolve a residential issue, check out our Kill Zone® and Chase-MM® insecticides. We can help fight the most common seasonal insect infestations and repel the most common backyard or deep woods pests.
For professional insecticide needs, Chase Products also has a full range of products available in our Champion Sprayon® line.
As always, use insecticides responsibly. Make sure you read and follow all label instructions and remember to air out the area after a pesticide is applied indoors.
For more information about pesticides and pesticide safety, go to the EPA website (www.epa.gov). For an extensive look at home and business use of pesticides, click here.